Acknowledging Women's Experiences in Psychiatric Care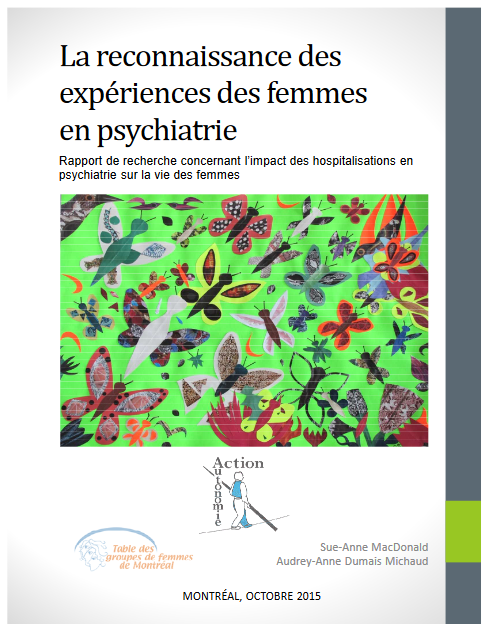 On October 15, 2015, Action Autonomie and the Table des groupes de femmes de Montréal presented the results of a research study on the impact psychiatric hospitalizations have on women's lives. This study "provided us with a portrait of women's experiences in psychiatric care, which, up until the present moment, has not been the subject of much study from a research perspective. The methodological choices made for this study were especially valuable, since they gave women a voice to express their points of view on what they found bothersome, unacceptable, or even dangerous in the psychiatric care system. (...)
The stories that emerged from this research study relate multiple situations recognized as being violent, abusive, disrespectful and ill-adapted to women. In fact, the women surveyed believed that, simply due to being women, they were pre-emptively labeled and considered problematic. While they affirmed that women should be listened to and treated with more sensitivity and respect, they believe that this cannot be achieved without first reaching gender equality in society as a whole. We concretely demonstrated that women feel belittled, misunderstood and some believe that they receive different treatment than men.
The current report offers an initial portrait of women's experiences in psychiatric care, specifically their needs, experiences and any consequences associated with their hospitalization. This research certainly has its limits, but it opens some doors and allows us to ask interesting questions that can be further developed.
Lastly, the results from this study tend to demonstrate that there are major gaps in the practice of psychiatric care for women and that the discrimination and oppression present in these environments are a reflection of the inequality experienced by women with mental illnesses in society.