Bloc text
The Table des groupes de femmes de Montréal is a regional round table founded in March of 1996. Its mission is to promote and defend the interests of women from a feminist perspective of gender equality. It intervenes in all spheres of social, political, economic and cultural life that may influence women's living conditions in Montreal.
Learn more
Bloc text
Take the survey!
The Table de groupes de femmes de Montréal (TGFM) wishes to survey people who live on the island of Montreal/Tio'tia:ke. They want to know their opinions and experiences with police forces and private security forces. 
Fill out the survey
---
Upcoming events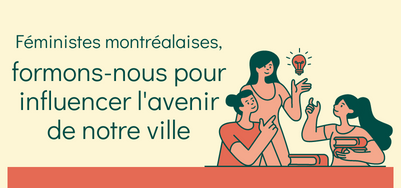 January 25, 2023 at 13:30
---
These trainings aim to equip TGFM members and committees to develop and disseminate feminist analyses and plan meetings with elected officials and interactions with the media.
See all events
---